The exhibition 'Da Luz e das Sombras' [Of Light and Shadows] features 156 artworks by the illustrator and graphic designer Manuel Lapa.
One of the leading figures of contemporary Portuguese visual history, Manuel Lapa (1914-1979) pursued a highly prolific and remarkable career between the 1940s and 70s. Lapa came to the fore with the making of iconic works of art for the Estado Novo propaganda, of which the art direction for
Exposição do Mundo Português
(1940) is the greatest exponent. Lapa's work, however, was not limited to contributions to the regime, as he developed a vast and diverse work of illustration and editorial design, as well as hagiography and costume design for cinema. Curated by Jorge Silva,
Da Luz e das Sombras
[Of Light and Shadows] features 34 original works by Manuel Lapa, between drawings and mockups; 36 digital printings on paper, stemming from book illustrations; 56 printed pieces, including posters, books and magazines; and three large dimension illustrations for vinyl cutting. In total, the exhibition features 156 artworks by Manuel Lapa. The exhibition opens January 16, 5 pm. Admission is free. The exhibition runs until August 30.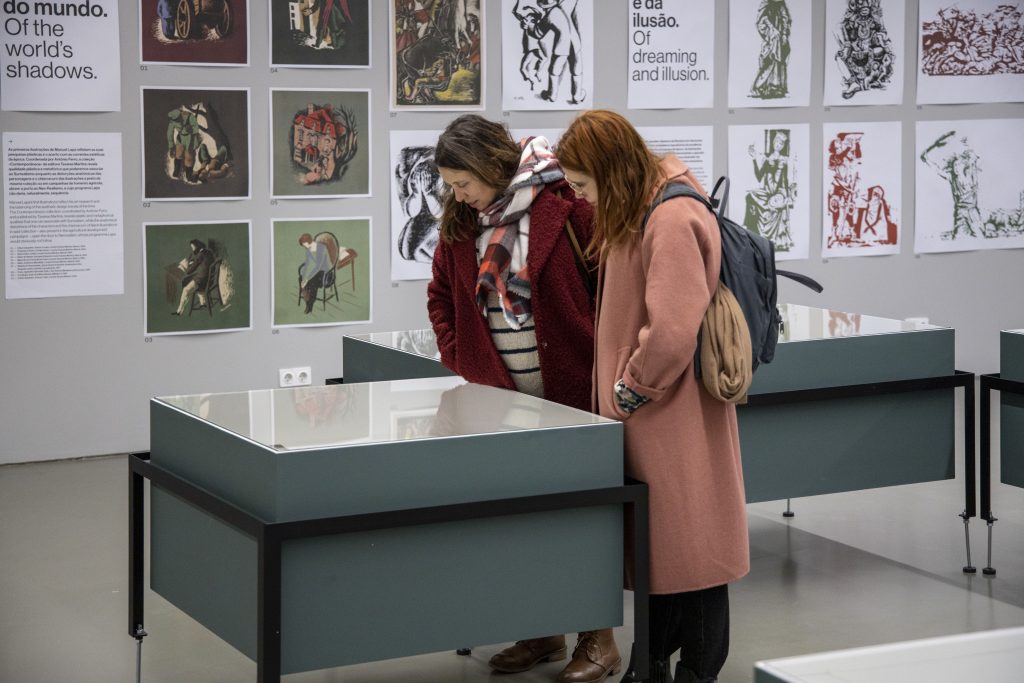 Jorge Silva (Lisbon, 1958) is a communication designer dedicated essentially to editorial design and the art direction of publications. He was the Art Director for the newspapers Combate, O Independente, and the supplements he designed for the newspaper Público: Y and Mil Folhas. His work in these two newspapers has been distinguished with dozens of awards from The Society for News Design. He headed several magazines, such as 20 Anos, Ícon, LER and LX Metrópole, for Parque Expo. This last one gave origin to the creation of silvadesigners studio in 2001, which has been dedicated to cultural branding, mainly related to Lisbon's cultural life. In this context, he is the Art Director for Agenda Cultural de Lisboa, XXI, Património and Blimunda. For three years he was Art Director of Grupo Editorial Leya and artistic consultant of INCM in 2015 and 2016. From some years now, he has been teaching Art Direction in the masters of the Faculty of Fine Arts of Porto and has been dedicated to research and curatorship in the Design and Illustration fields. He is responsible for the concept and edition of Colecção D, published by INCM on Portuguese historical and contemporary designers. He created the blog Almanaque Silva, where he tells stories of Portuguese illustration. Jorge Silva has been a member of the AGI – Alliance Graphique Internationale since 2012.
Manuel Lapa (Lisbon, 20.09.1914 - 11.12.1979) was one of the greatest illustrators and graphic artists of the second generation of Portuguese Modernism. Graduated from the Lisbon School of Fine Arts, he was a professor at the same institution. In 1940 he assumed the art direction of the Portuguese World Exhibition. He directed and/or collaborated with magazines such as Panorama, Diana or Atlântico. Similarly, he participated in several exhibitions and was part of the team of artist-decorators at the Museum of Popular Art. In 1947 he was awarded the Domingos Sequeira Prize. He was part of the group of founders of the IADE/ Institute for Art, Decoration and Design of Lisbon.